Words from the Woods | ACF Blog


March | 2023
The People We Meet: It's only…everything
by Thad Taylor
One never knows how the relationships we cultivate might take root, blossom, and grow. Almost twenty years ago, a colleague invited me to be the guest speaker for their Pennsylvania ACF chapter meeting and illustrate how timberland financing concepts might add to the members' toolkits for serving their forest landowner clients. That was rewarding! Although my career in forest industry and timberland finance precluded ACF membership, it was an honor to meet ACF foresters, share perspectives and reconnect with forestry classmates with whom I'd lost touch while working in other parts of the country. Little did I know, the same ACF chapter would repeat their invitation some years later, to discuss forest industry and market topics, which has led to a terrific relationship with ACF members in our region.
Last May, after a rewarding twenty-five-year career in industrial forestry and corporate finance, I joined FORECON, Inc., a regional, full-service forestry consulting firm as Director of Corporate Strategy. What a great opportunity it's been, to join ACF as a Candidate Member, attend the National Conference in Austin last summer, and fellowship with foresters from Texas and Arkansas with whom I had done business almost twenty-five years ago! A fellow leader once shared a bit of wisdom with me – in the context of goals and planning – that "life isn't a straight line." Detours, course-adjustments, and full-participation in the excursions our paths offer not only define the arc of our careers, but create opportunities to serve, grow and enrich the lives of others. I believe people are brought into our lives to be a blessing to us, and that we're brought into the lives of others, to be a blessing to them. And, often, it "isn't a straight line."
I'd be remiss if I didn't mention it applies to personal relationships as well. Way back in 11th grade in rural Pennsylvania, I met a girl in art class. We started dating, and that lasted several months until she and her family moved to Texas. Little did either of us know, Cynthia's and my respective paths would later cross, leading to twenty-five years of marriage, our three terrific kiddos, rich relationships with families in our church, and spanning career assignments in Texas, Arkansas, Louisiana, and back to Pennsylvania.
Interestingly, the short six and a half years I spent meeting foresters, landowners and investors while working with International Paper in procurement and timberland management in Texas, Arkansas, and Louisiana after college, ultimately created the relationships that shaped my entire career – a career mostly spent away from the south, in timberland finance in rural Pennsylvania. Maybe it's coincidence. Nonetheless, it speaks volumes about the mutual value and richness in the relationships we cultivate each day with clients and members of our professional forestry community as well as how we might inspire the next ACF Candidate Membership-applicant. It only has the potential to impact everything!
Onward!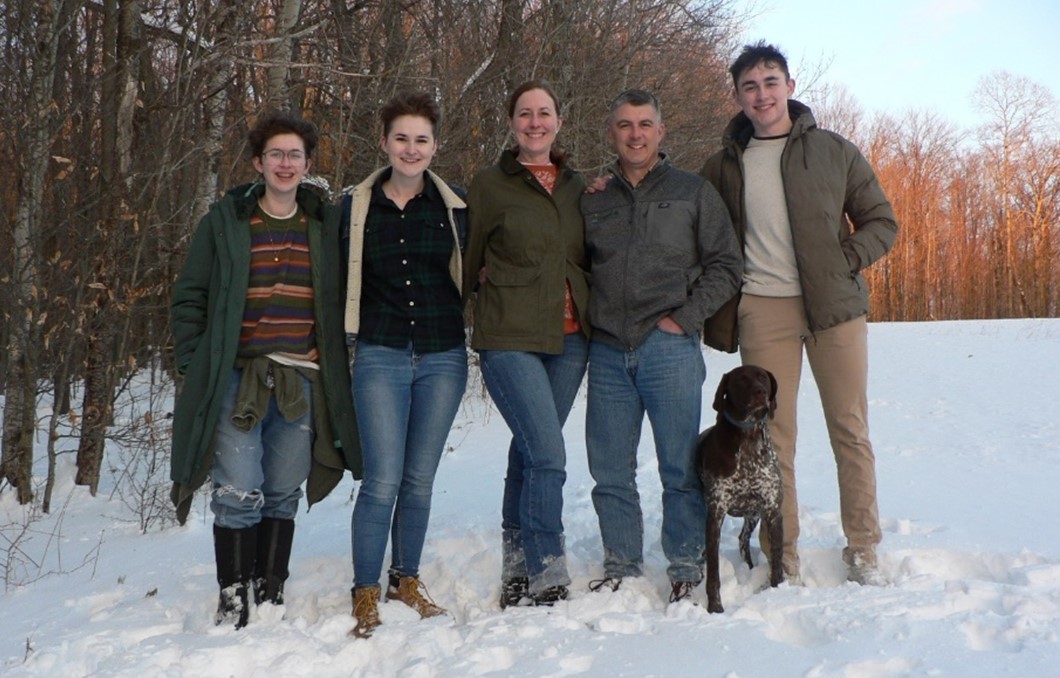 Above, Thad and Cynthia Taylor and their children at their home tree farm near Coudersport, Pennsylvania.
Thad is an ACF Candidate Member, an SAF Certified Forester and a Mississippi Registered Forester.